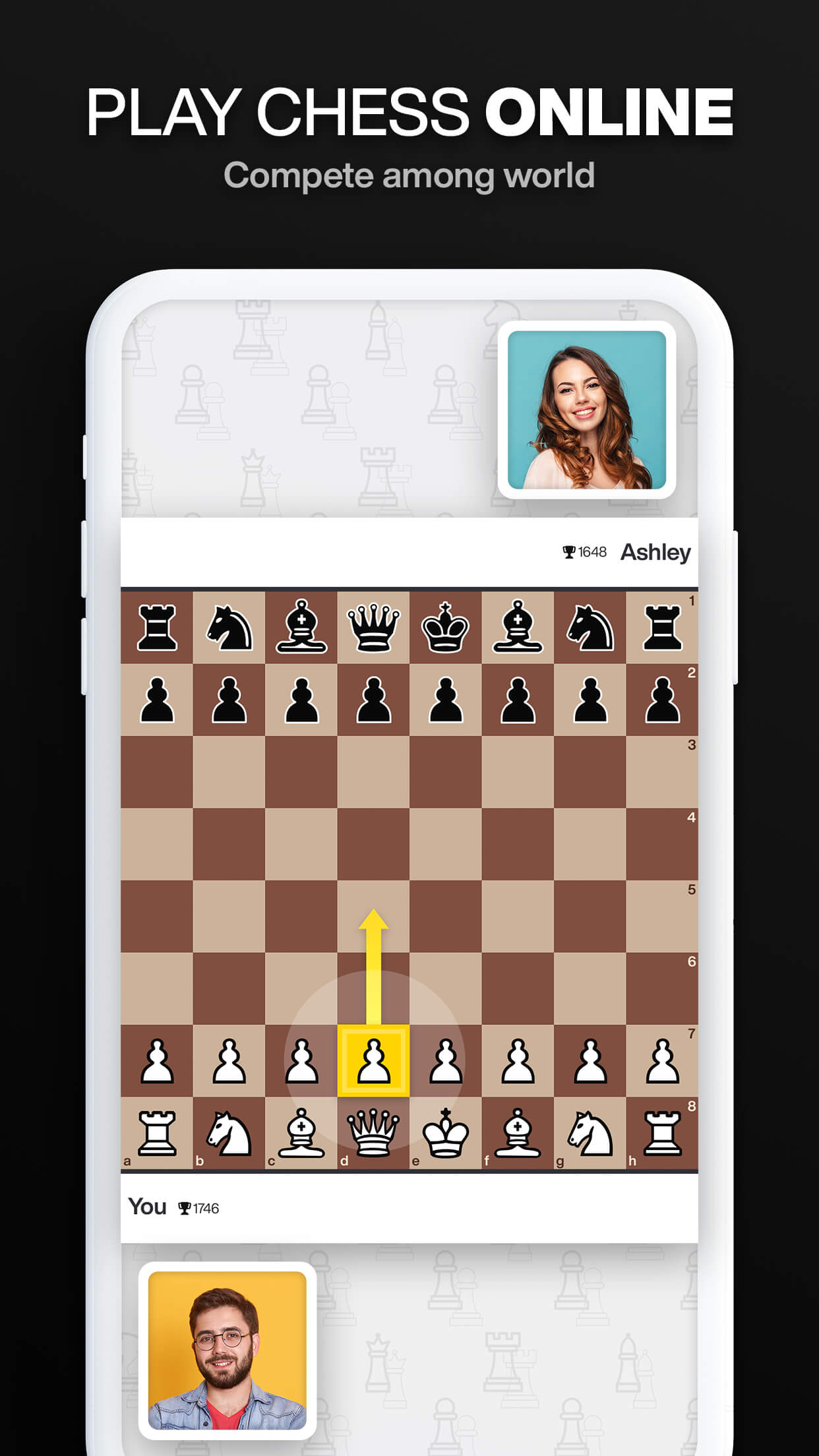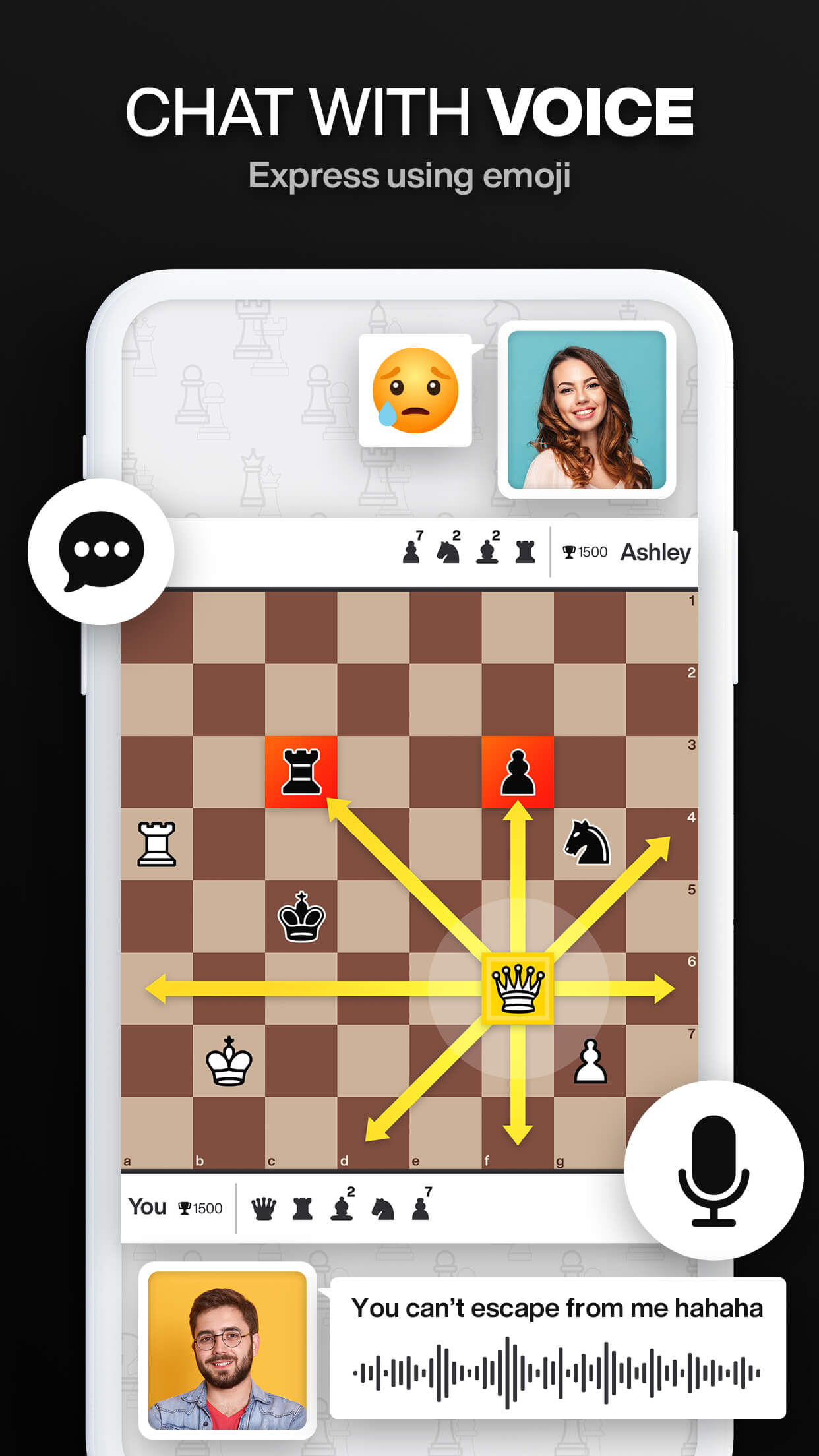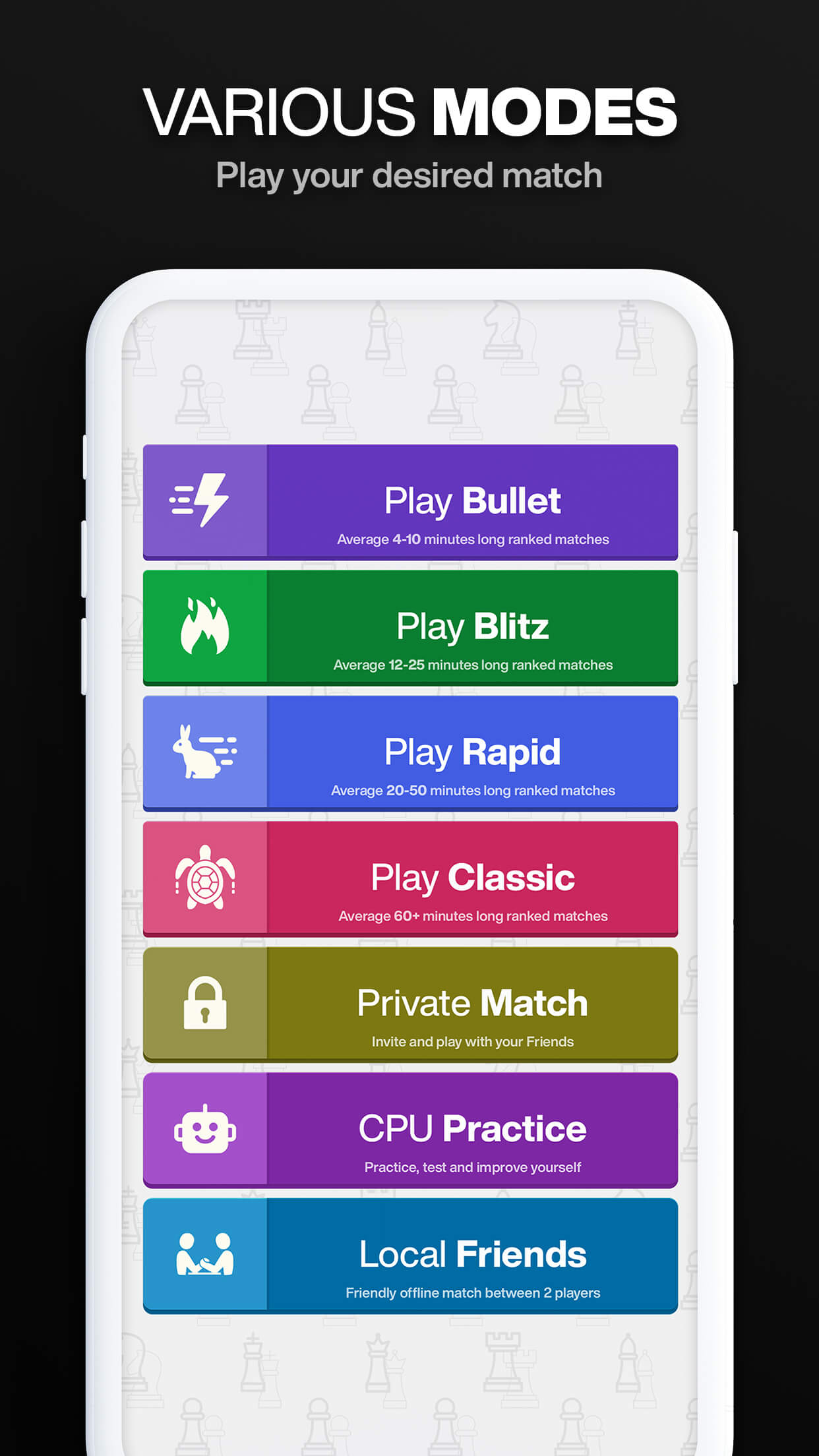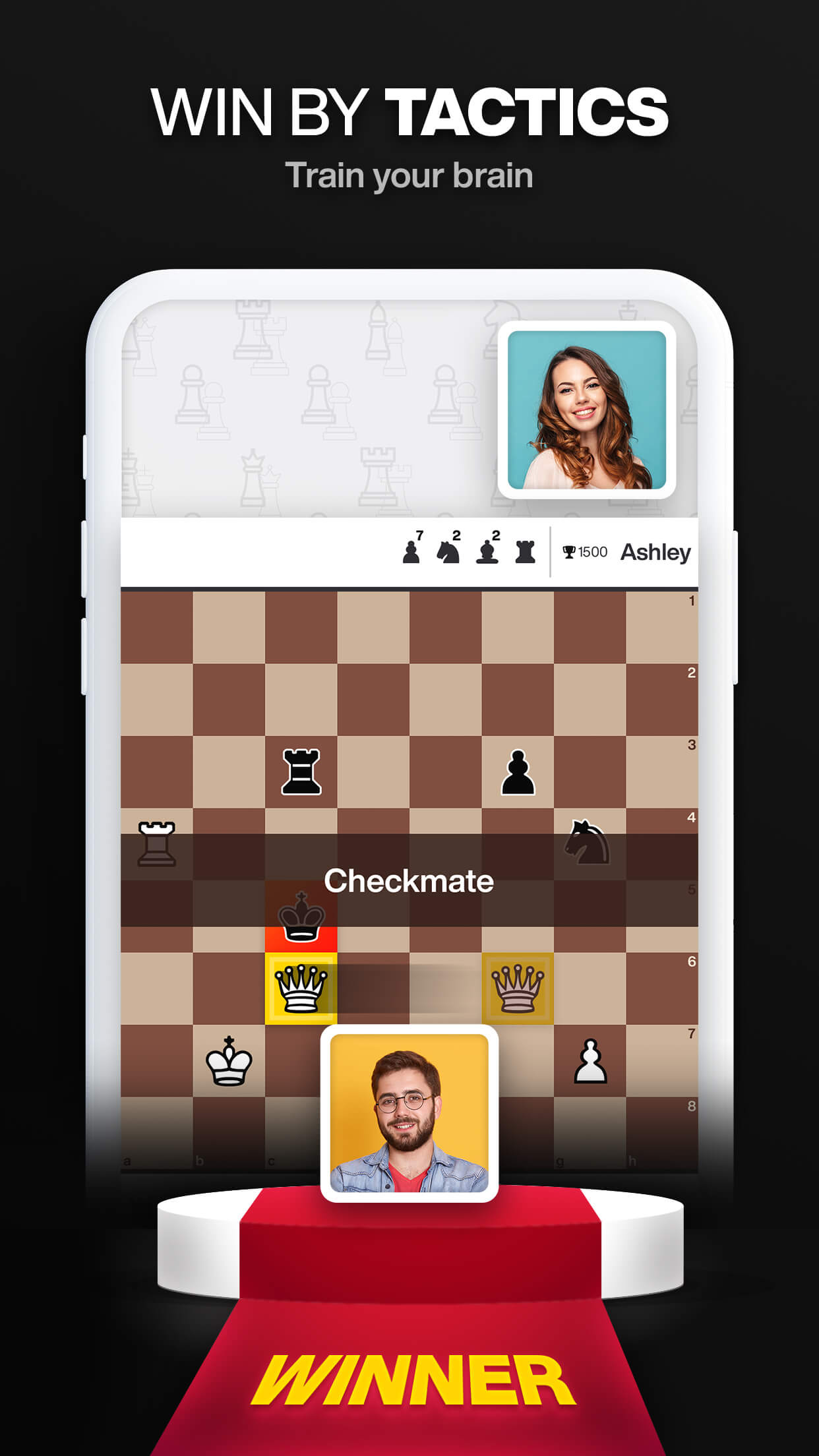 ---
GETTING INTO IT
Project Info
Play Royal Chess, Talk to your worldwide buddies with real-time voice chat.

Play the best chess game for free with players from all over the world!
Compete, learn, train, improve, and strategize with the best chess game to hone your path towards chess grandmaster. Defeat your opponents and become the king of royal chess.
♚**FEATURES**
— From blazing bullet games to classic chess games, Royal Chess provides a variety of time-controlled games.
— Create multiplayer chess boards, Play multiple games simultaneously.
— Interact with opponents by real-time voicechat.
— Endless chess games with infinite time-control.
— Challenge your friends into private games and communicate with voicechat.
— Explore the royal world and make new friends.
— Dominate the leaderboard and become the King of Royal Chess.
— Create and play online and offline boards separately.
— Autosave offline games.
— Chat with messages and emojis.
♛**MULTIPLE MODES**
— Play Bullet: Bullet games are a minute or two long. Bullets are quick games.
— Play Blitz: Blitz games are around 5 to 10 minutes long. Blitz are fast games.
— Play Rapid: Rapid games are around 10 to 20 minutes long. Rapid are normal games.
— Play Classic: Classic games are for veteran players with long time-controls.
— Private Match: Play in private mode with your private friends.
— CPU Practice: Tactics training, Learn your strategy, Win over the CPU to become royal king.
— Local Friends: One device, Two competitors. Can you be a real king?
♜**CUSTOMIZATION**
— Over 10+ quality settings to customize like display name and avatar.
— Board Coordinates: Hide 1-8 and a-h coordinates.
— Piece Animation: Stop moving animation of pieces.
— Magnified Dragged Piece: Stop zooming while dragging.
— Board Highlight: Hide all warning highlights.
— Piece Destination: Hide recent moves & valid movement suggestions.
— Voicechat: Voicechat customization allows a player to enable voicechat in multiplayer games.
Royal Chess is a two-player strategy board game played on a chessboard, a checkered board with 64 squares arranged in an 8×8 grid. Chess is played by millions of people worldwide.
Royal Chess is the most popular and new chess released in 2021. Royal Chess offers lots of time-controls like 1+0, 1+1, 2+0, 2+1, 3+0, 3+2, 3+5, 5+0, 5+5, 10+0, 10+5, 12+5, 15+10, 15+15, 15+30, 30+30, 60+60, endless etc. Royal Chess offers modes like blitz, bullet, rapid, classic, private, CPU, practice, learn tactics, training, timepass, local, friends, etc.
Royal Chess is the free, new, and best multiplayer version of an original and classic timepass chess game. It's like multiplayer timepass games as chaturanga, shatranj, xiangqi, janggi, shogi. The main goal is to protect your king and checkmate your opponent's king. King is also known as koning, mbreti, malik, sah, erregea, кароль, rei, konge in different languages. Multiplayer game supports real-time voicechat.
Royal Chess has many modern features like multiplayer, voicechat, board creation, customization, multiple game support, online and offline multiplayer mode, endless games, friends, challenges, puzzles, levels, and much more to explore. Royal Chess is the best and new game in 2021.
Royal Chess is free to play a new multiplayer chess game in 2021. If you love games like Tic Tac Toe, Ludo, ISTO, Shogi, Checkers, Dots and Boxes, Four in a Row, and other fun timepass, you will love Royal Chess.
** About Phoenix Games LLP **
With millions of users, Phoenix Games LLP is known as the creator of games that babies, kids, teens, and parents love to play.
Visit us at https://www.phoenixgames.in.
Share the experience of these top free games with your family, friends, and social people or follow us on:
** Facebook **
https://www.facebook.com/phoenixgamesllp
** We ♥ Your Feedbacks **
message us on https://www.facebook.com/phoenixgamesllp
** Privacy Policy ** https://www.phoenixgames.in/privacymultiplayer.html
** Terms Of Services **
https://www.phoenixgames.in/termsmultiplayer.html
Amazing Features
Standlone Application with many smart and rich features.
Intuitive User Interface
Royal Chess contains very intuitive, clean and easily understandable user interface
Unique Gameplay
Royal Chess have very enjoyable gameplay which is perfect for relaxing and time passing
Best Strategy
Royal Chess provides real time simulation which makes your brain more strategic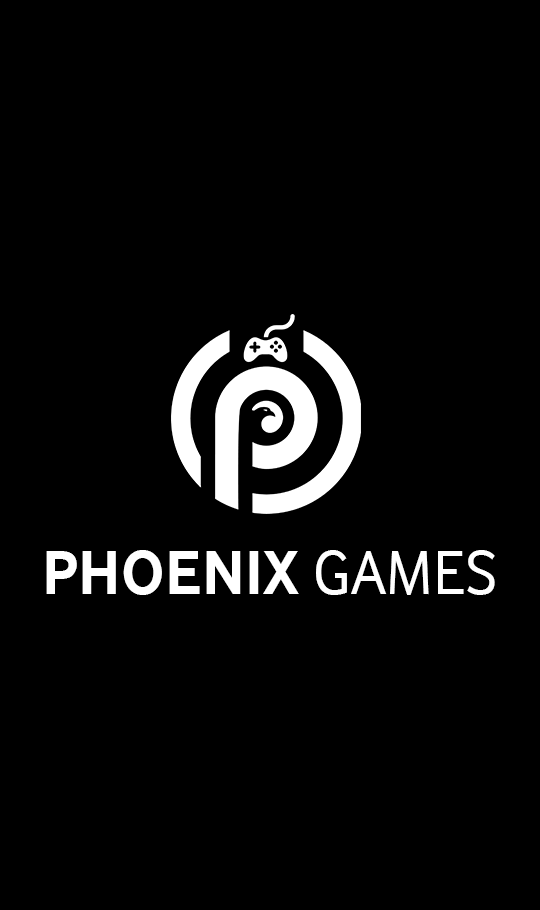 Robust User Experience
Royal Chess's fast and responsiveness provides best and robust user experience to users
Revolutionary Mechanism
Royal Chess is based on completely new mechanism which is revolutionary in gaming industry
Realistic Visulizations
Royal Chess's next generation visualizations binds users and entertains them deeply
---
Details With Youtube Video:
---